THE INTERIORS page 4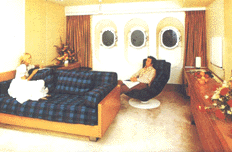 Originally the Cabins on One and Two deck were the highest grade accommodations available on QE2. Forty-six of them located amidships had inter-connecting doors to adjoining cabins to create suites. The decor employed the popular color schemes of the time; red, orange, yellow ochre and white. Timber veneers in rosewood, ash and cedar were used as wall panelings. Some also had ceilings covered in Swiss Pearl, velvet wall coverings and silk curtains. Amenities not found on the earlier Queens were available not only in these top grade accommodations but all passenger cabins. They included air conditioning, telephones, a console controlling six channel radio programs and cabin lighting, private toilet and bath/or shower.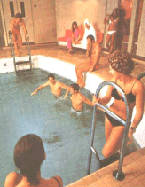 Indoor swimming pools had been a common feature on north Atlantic liners for decades. Titanic and her sister ships were some of the first to have what was then called swimming baths. The German liner Imperator, built in 1913, had the Pompeian Bath, a pool in a two deck high space decorated in the manner of classical Rome complete with marble columns. In these early years the indoor pool was strictly the domain of first class passengers. By the 1930's massive ships like the Queen Mary held two indoor pools. Pools are always situated deep in a ship due in part to the weight of their building materials (tile or marble) and because in the event seas should suddenly become rough the water would slosh out and drench everything below. QE2 had two out door pools on the aft deck space as well as two pools indoors; one on Seven Deck and this one on Six Deck. The pool was 30 feet long, 18 feet wide and contained 17,500 gallons of water. In 1992 the Six Deck pool was turned into a spa run by Steiners of London, featuring Thalasso-therapy pools, French hydrotherapy baths, saunas and steam rooms. In an ironic twist, the area today is more space-age looking than it was in 1969. Gone are the stone and laminated fiberglass, replaced with chrome and neon.
HOME HISTORY AN ENGINEERING MARVEL THE INTERIORS