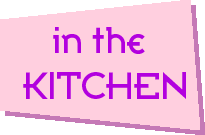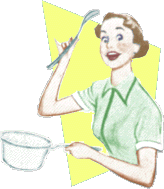 I firmly believe that good food is one of lifes greatest pleasures. Sadly I believe it too well. In these times, when the height of fine dining for many is a visit to Red Lobster, good food is hard to find. This page, which I will change from time to time is dedicated to some of my favorite dishes, tested in my own little kitchen.
MASHED SWEET POTATOES
and PEARS
Despite the strange sounding combination of sweet potatoes and pears, this is a great side dish for the Autumn. Makes 8 servings.
5 lbs. red-skinned sweet potatoes (yams)
6 tablespoons unsalted butter, room temperature
4 large firm but ripe Bartlett pears, peeled, cored, cut into 1/3-inch thick slices
1 cup pear nectar
1/4 cup sugar
1/2 teaspoon ground cinnamon
1/4 heaping teaspoon ground cardamom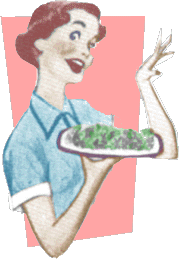 Preheat oven to 350°F. Pierce potatoes in several places with a fork and place in microwave oven at full power. Potatoes should be tender when pierced with a knife after about 5 minutes, maybe longer depending on size of microwave (Two alternatives would be-1) Bake fresh potatoes in preheated 400°F oven, in a buttered glass baking dish for one hour longer. 2) Heat caned sweet potatoes in sauce pan on stove top or in the microwave).
Melt 2 tablespoons butter in heavy large nonstick skillet over medium-high heat. Add pears; sauté until they begin to soften, about 5 minutes. Add 3/4 pear nectar; bring to simmer. Reduce heat to medium low; cover and simmer until pears are very tender adding more nectar if pears begin to stick to pan and stirring often, about 4 minutes. Transfer to food processor and puree.
Cut sweet potatoes in half length wise and scoop out the contents; place in large bowl with 4 tablespoons butter and beat until smooth with electric mixer. Mix in pear puree, sugar, cinnamon and cardamom. Season with salt and pepper.
ABOUT ME TRAVEL PICTURES IN THE KITCHEN PECULIAR OBSESSIONS
LINKS
EXIT CHIPLAND TO WORLDS FAIR OR QE2 PAGE