THE INTERIORS page 2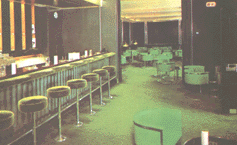 As the Queens Room and the Midship Lobby conjured up visions of interplanetary travel, the Midship Bar brought passengers back to mother earth. It was a lush, dark, green forest of mohair, velvet and deep pile carpet. Perhaps the dim light and soft fabrics were a welcome escape from the space age polymers of the rest of the ship, for the room hardly changed over 25 years. In 1994, it was transformed into the Chart Room, a bar which featured a more traditional nautical decor.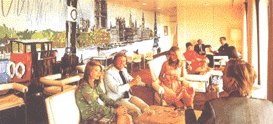 Cool Britannia: The Sixties were a sparkling time for England. She burst on to the pop culture scene with the same audacity and mastery that the Americans had in the Fifties. The styles of taste and fashion, the trends that were set and re-set, were dictated by Carnaby Street, Kings Row, the Beatles and the Stones. London, for all its icons and momuments to past ages was a cool place to be for the New Generation. The very image of Britain, the Thames at Westminster, fills the wall in the Coffee Shop. The room failed however at evoking any of the trendy air as London in the late Sixties did. Instead it served an almost exclusively American style role as an all night diner at sea. The Coffee Shop provided waitress service around the clock and passengers could get light meals and breakfast fare. The concept today is very popular on cruise ships, but on QE2 the 24-hour Coffee Shop disappeared during the 1972 re-fit.
HOME HISTORY AN ENGINEERING MARVEL THE INTERIORS