THE INTERIORS page 3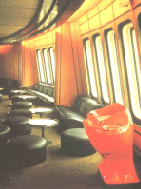 The Observation Lounge or Lookout Bar, was one of the most popular public spaces on QE2. In the center sprung a bright red plastic console which housed instruments and a compass indicating the ships position. But the real attraction to this room was not something inside, but outside in its view. This was a forward facing room, hence the walls angled inward. On the other side of the windows passengers could look out over nearly two hundred feet of the forward deck. This room, like none other stressed what new sort of liner QE2 was. The rows of windows, all set into identical panels, looked like larger versions of those in a jet liner cabins. This emphasized the feeling of being in a hermetically sealed space. Passengers in this room could easily see that crossing the North Atlantic can be a messy bussness; fog, high seas, spray and even waves breaking over the bow. One would ride in comfort and luxury and be totaly isolated from the harsh enviorment out side. Sadly after 1972 the lounge, and its view for passengers has been turned over for additional kitchen space. Their are no other forward facing public rooms on QE2.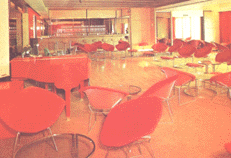 Just aft of the Theater on the Upper deck, starboard side was the Theater Bar. Harsh by today's standards, the room was considered ultra-modern in its day with red being the predominate color found not only in the chairs, but the drapes and even the piano. Behind the bar was egg crate like wall covering in bright red fiberglass. The room was a popular place to socialize over pre-dinner cocktails as well as functioning as the Tourist Class nightclub. After the 1994 refit the room became the Golden Lion Pub, its name derived from the Cunard logo of a gold lion holding a globe in its paws. The decor swung in the opposite direction as it recreated an Edwardian style pub.
HOME HISTORY AN ENGINEERING MARVEL THE INTERIORS