PAGE 2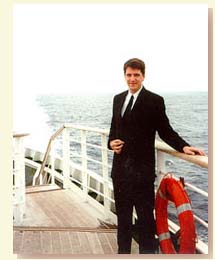 Trip of Dreams For as long a I could remember I've been fascinated with ocean liners and wanted to make a voyage on one. Puttering around in some tiny cruise ship was not for me, I wanted to cross the Atlantic in a big old fashion ocean liner. But as time went on that dream seemed harder and harder to reach because one by one, the great liners were going away, till only one was left. So when the opportunity came in 1996 to make a crossing on QE2, I jumped at it. The trip was awesome, five days at sea, being pampered the whole way. They feed you a lot on QE2, hence why I may look a little wide I this picture.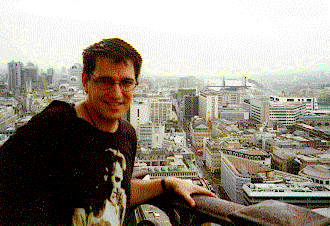 High but not dry. On the top of St Paul's Cathedral's dome, some 365 feet above London in what the English fondly call a "pissing rain". Despite the bad weather Tower Bridge can still be seen off to the right. While climbing up to the top of St Paul's dome is something everyone does, the real treat is way below ground in the crypt. Everyone who was anyone in English history is buried there, Lord Nelson, the Duke of Wellington, Lawrence of Arabia, Alma-Tadema and Florence Nightingale, just to name a few. London is a great city, I really love it there and unlike a certain cross-channel city the people are real friendly!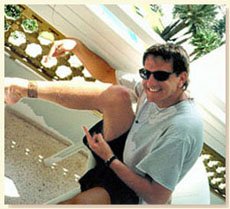 Rock the Casbah. In 1997 I went to Morocco, and this trip was like nothing I had ever done. For starters, it was my first time going someplace that is not considered part of the Western world. Also, this was my first time I went to a country where one had to be careful about what they ate or drank. Despite my precautions, I still became ill and under doctors orders had to avoid all alcohol for the rest of the trip. It was a classic case of the cure being worse than the illness. Yet, the trip was really great. In Marrakech there was some truly magnificent architecture. Due to Islamic law, depictions of any figurative objects are forbidden, so the buildings were covered with intricate geometric carvings and patterns. Also, in many places, they grew dense hedges of rosemary, making the air incredibly fragrant. Here I am in Agadir, showing off a henna tattoo.

ABOUT ME TRAVEL PICTURES IN THE KITCHEN PECULIAR OBSESSIONS
LINKS
EXIT CHIPLAND TO WORLDS FAIR OR QE2 PAGE