As you can tell from these pictures, I like to travel. Basically my feeling is, I have this passport, I may as well use it. Also, I have little interest in going to the typical places . The Caribbean or Hawaii does not excite me. Why go and hang on a beach with a bunch of fat, obnoxious Americans when for less money I could go to Greece and hang on the beaches there with fat, obnoxious Germans?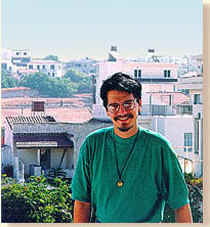 Greece is the word. This picture was taken on my first trip to Greece in 1992, on the balcony of our room at Doma in Hania, Crete. Of all the places in Greece, Crete is my favorite, Athens is ok for a day or two and Mykonos is a great place to sun, party and shop. But if you want to see the real Greece than Crete is the place.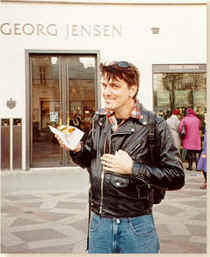 A Carnivore in Copenhagen One of the best thing about visiting other countries is sampling the cuisine. Of all the places I have been, some of the best food was in Copenhagen, Denmark. Grovlocks served with sweet mustards, patÚ that melts in you mouth, savory pickled herring and of course, what the Danes are famous for-rich, luscious danish. Here I am, back in the days when I still ate meat, enjoying a wiener on the Str°get.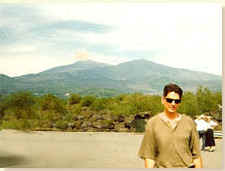 Under the Volcano. In 1995 I went to Malta, a small three island country west of Sicily. While the food in Malta left something to be desired (they actually served mayonnaise as an appetizer) the scenery was beautiful. I took a day trip to Sicily and got even closer to the summit of Mount Etna then this picture shows. Now, I will admit, I did do some PhotoShop editing on this picture. For some reason when this was scanned, the pinkish puff of smoke near the peak did not come through, so I enhanced it some. The smoke really was sort of pink, the result of Etna being in a minor eruption stage the day we visited.
ABOUT ME TRAVEL PICTURES IN THE KITCHEN PECULIAR OBSESSIONS
LINKS
EXIT CHIPLAND TO WORLDS FAIR OR QE2 PAGE